Speaking
Costas Kataras is an educator, author and lecturer.
For the past thirty years he has been advising leading companies and organizations on strategic issues. Today, focuses his efforts and time on developing new ideas about how organizations are influenced by changes in the lethal triangle: Technology, Complexity and Society.
Through a holistic approach he provides new thinking utilizing many original ideas stemming from such diverse sciences and cognitive domains such as : mathematics, games theory , physics , complexity , chaos, statistics, biology, artificial intelligence, psychology, neurology and psychoanalysis.
Events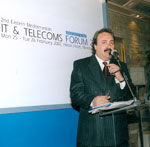 Combining in-depth analysis, data-driven forecast and successful scenario analysis, it is no wonder Costas is a sought after speaker and presenter.
He has contributed in the success of many international conferences, global companies' events and meetings in many countries, providing the broad and global view. This, together with fresh and 'dangerous ideas' and best practices on strategy, marketing, advertising and economic development in the context of our information economy.
What He Offers You
Original ideas from more than three decades hands on experience working with global companies and international organizations, combined with data-driven, research-based insights and scenario analysis, through a holistic / systemic approach that provides new thinking about the new realities in the business, marketing and advertising world.
How He Presents 
Costas' fact filled presentations provide a wealth of new ideas and invaluable insights that usually affect the future strategy of most organizations. 
Current Topics:
Death of the Brand: 12 'Known Unknowns' of an Inevitable Corporate Disaster
The  Uncertain Future of American Global Brands
Why Europe with it's 'Nice Brands' and 'Nice Capitalism' Outperformes America
Brand Psychoanalysis :What Freud Could Say to the World's Leading Brands
The Secret Correlations of 'Nice Brands', 'Nice Capitalism' and ' Happy Nations'
The Pursuit of Happiness in a Branded World
Languages
He presents in Greek and English
To book a Speech
Please contact : catherine@costaskataras.org
Educator
He also is lecturing in universities / business schools and has almost ten years experience in teaching to colleges on such topics as: marketing, communications/PR, consumer behavior, market research, motivation analysis and other.
Video
Past Speaking Engagements ( Indicative Only)
Apple  (Paris )
Atlas Copco (Stockholm )
Dialogue (Copenhagen )
DW Forum  (Nicosia )
European Commission ( Brussels )
Eurostat (Luxembourg )
IBM (Athens)
IDC Forum ( Venice )
Management Association (Athens)
Marketing Week
Universities (Panteion , Economics,  etc)
General Speaking Inquires
Please contact : catherine@costaskataras.org